All Land is Sacred. Keep Balance and Build Health for the Earth and for People.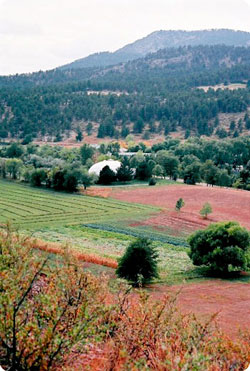 Since our inception, The Emissaries have valued and practiced sustainability. One of the first actions taken after the purchase of the dryland farm that is now our headquarters—Sunrise Ranch, in Loveland, Colorado—was the building of the soil in our four-acre garden.  The first gardeners at Sunrise knew that in this arid climate where water is scarce and evaporates easily, building soil tilth would greatly enhance the soil's ability to retain water. They imported carbonaceous material, in the form of straw and horse manure, and set the precedent in our land-stewardship practices of building health, instead of battling disease.
Those early practices have continued, and expanded over the years. In 1995, we set up a Community Supported Agriculture (CSA) farm operation, as well as a sustainable-agriculture education program through The Stewardship Community and Guidestone Farm. Their work on this property came to a close in 2006, and continues in other parts of Colorado.  Sunrise Ranch initiated a new cycle of sustainable agriculture and education in 2008 with The Farm at Sunrise Ranch, raising and selling 100% Grassfed beef.
Our flower beds are full of beautiful perennial flowers and we are increasingly employing xeriscape techniques in our gardens.  We have a few lawns that give us a chance to marvel at and appreciate the beauty of the natural world.  In 2008 we planted our first native grass lawn.
We also have our own water-treatment plant on the property, and a second pond that treats our wastewater uses aeration and cattails to finish the purification.
We have purposely kept almost half our acreage held in a reserve. Living with us are thriving communities of deer, coyotes, wild turkeys, eagles, hawks, geese, rattlesnakes, and a few bears and mountain lions.
Practices: Healthy Land, Healthy Animals, Healthy People
The Farm at Sunrise Ranch uses Holistic Management, a system of visioning, decision making, and land management that ensures our actions will be sustainable ecologically, socially, and economically. Holistic Management is based on using nature's template as a guiding force in determining our practices.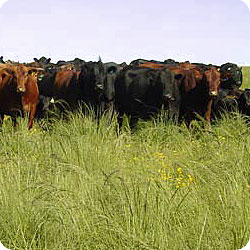 In thriving wild ecosystems with similar rainfall and humidity, one of the dominant relationships that ensures health for all aspects of the ecosystem is between herds of herbivores, grass growth and pack hunting predators. The herds stay tightly bunched as part of their defense against the packs of predators. This tight bunching means they need to move together and frequently to fresh forage and away from their dung. Grasses have been specially adapted to this type of heavy impact over short durations of time. They thrive on it. As they thrive the water table is increased in depth, which lessens the impact of drought.
Grass health also increases soil fertility by ensuring that earthworms have plenty of food, water and air. We mimic these interrelationships with electric fence to keep the cattle tightly bunched and moving to fresh pasture frequently.
Pasture Raising not only increases the health of land. Cattle raised on pasture and moving frequently have less exposure to their dung, meaning they have fewer chances for infection. Because their stomachs are equipped to digest grass and forbes more than they are equipped to digest grains, they have less illness and less need for antibiotics.
Pasture Raised Beef also benefits one's health:
Meat from animals fed only natural forages have more conjugated linoleic acid (CLA); shown by scientists to help reduce risk of cancer, especially breast cancer.
Meat from pasture raised animals has more minerals and micronutrients, including higher levels of vitamins, such as vitamin E.
Pasture raised beef contains more omega-3 fat compared to grain-fed beef, which contains more omega-6 fats. Higher levels of omega-3 fats are associated with reduced risk of cardiovascular disease, cancer, arthritis, and Alzheimer's.
Our beef is processed locally at small, family-owned, USDA-inspected facilities and is dry-aged for at least 14 days. The meat is then vacuum-packed and frozen.
Beef is available in variety packs as well as in customized whole, half, and split quarter beeves. We also sell individual cuts at local farmers' markets and at our farm tours. We do not ship our frozen products, but we do provide delivery to the Denver metro and northern Front Range areas. Our harvesting season is generally from the beginning of summer to late fall. Beef variety packs may be available year-round depending on inventory.
Our land stewardship is based on building health: in our land, in our animals, and in our customers. We do not use artificial pesticides, herbicides or fertilizers on our land. Nor do we use hormones, antibiotics, confined feeding, or any grain in raising our animals.

Through these cycles of relationship with the natural world, we have kept our integrity and continued to let it expand.
---